Guide to Using SecureDrawer
In this guide, we show you how to:
Initialize Your Account
When you have been added to our secure file exchange system, called SecureDrawer, you will be sent a New User and Status notification emails.  The New User email contains your Get Started link. See the example below. If the staff at Adap Tax Financial, Inc. has not created a SecureDrawer account for you, please call us at 925-218-2301 or email us at securedrawer@adaptax.com.
To activate your SecureDrawer account, click on the Get Started bottom within the New User email to:
Set your password.
Log in using your Email Address and Password.
Accept the Terms of Service Agreement.
Once you have completed the steps above, you will be able to securely send files to us and receive files from us. When files are placed in your drawer, simply double click to Download or View the files.
For more detailed instructions on how to use SecureDrawer, log into your account using the above instructions and click Help to access the FAQs and video tutorials. Need additional assistance?  Email support at support@securedrawer.com  or call 877-574-5505.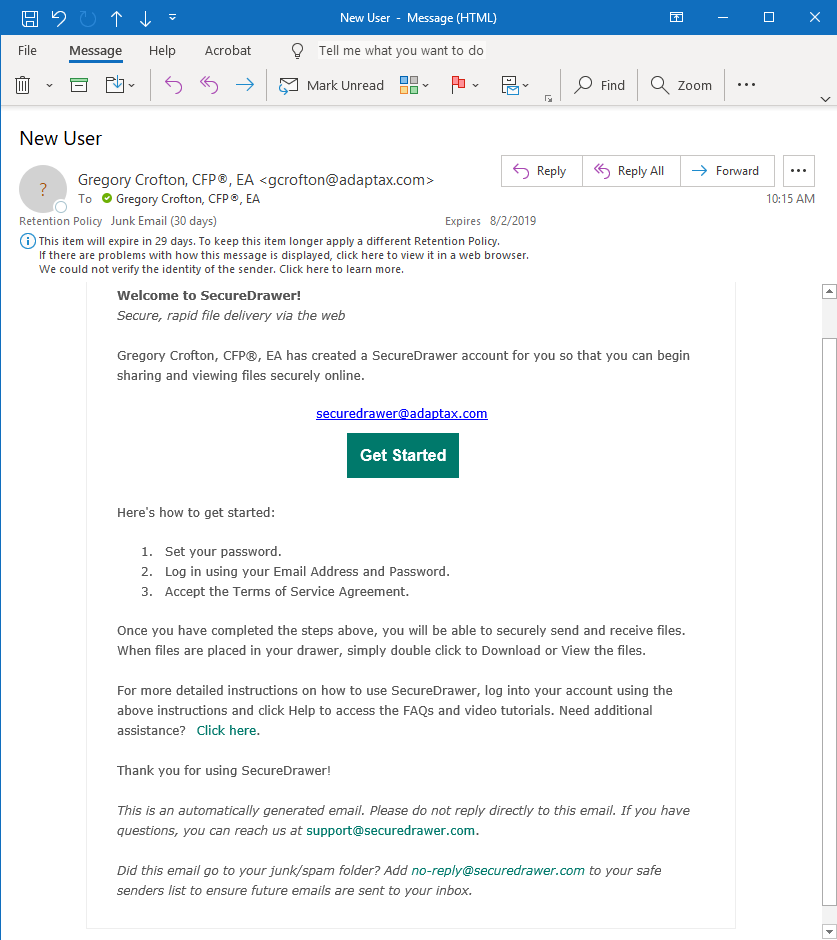 New User Email (example)
Please check your "Spam" folder if you don't see this email in your regular in-box. Add "no-reply@securedrawer.com" to your "safe sender" or "approved contacts" list, if needed, to avoid having SecureDrawer e-mails diverted to that folder. Note:  If you have been provisioned with access to SecureDrawer by another service provider, you will not receive the New User email since you already have a SecureDrawer account. See an example of a Status email below.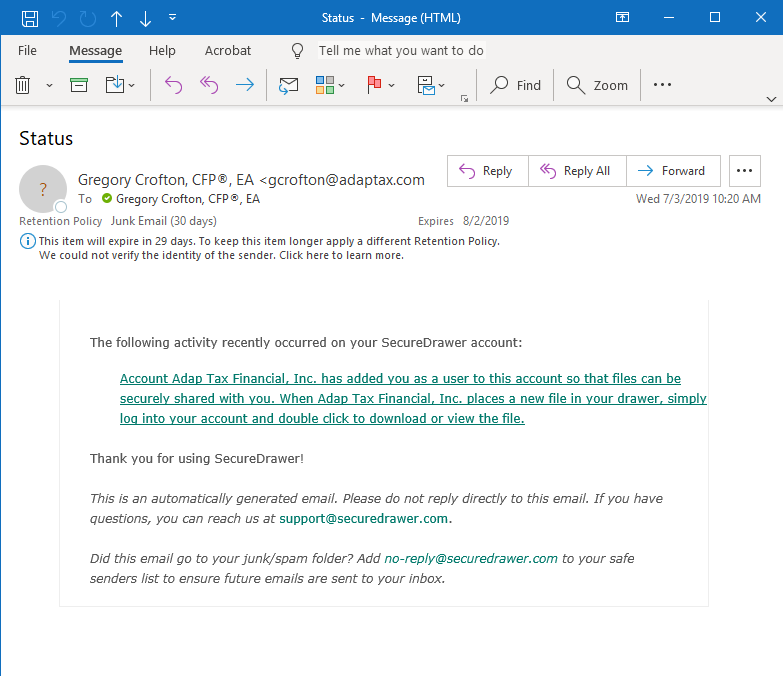 SecureDrawer Status Update Email (example)
Password Reset
You may need to reset your password if you forgot your email or as a means to access your account such as if you did not receive the New User email or you do not activate your account within 29 days from receipt of the New User email in which case the Get Started link in your New User email will have expired.
To reset your password, browse to https://adaptax.securedrawer.com and link on the Forgot Password link on beneath the Sign in to SecureDrawer bottom near the bottom of the web page.
Upload A File
Once you have logged into SecureDrawer, to upload a file to share with Adap Tax Financial, hover your mouse over the name of your SecureDrawer in the left side of your browser window, you will see an icon with an up arrow.  See the example below. Click on this icon and a new window will open to allow you to browse within your file system to the file you want to upload to share with Adap Tax Financial. Highlight the file or files, select multiple files by selecting the shift key, then click on the Open button at the bottom right of the file explorer window.  When you share files with Adap Tax Financial, we will receive an email letting us know you shared files with us.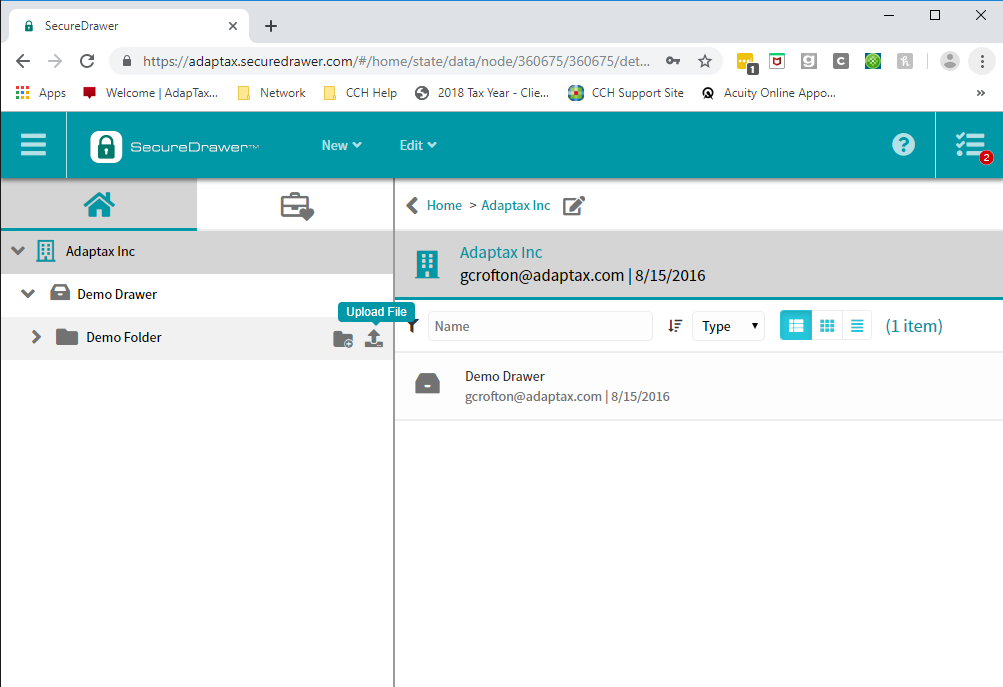 Download A File
To download a file, we have shared with you via SecureDrawer, simply double-click on the name of the file.